Recent Posts
1
« Last post by Ghoul on August 13, 2018, 02:02:59 PM »
evo, najzad, jednog horor vrednog gledanja!
http://cultofghoul.blogspot.com/2018/08/terrifier-2017.html
2
« Last post by Lidija on August 13, 2018, 09:22:21 AM »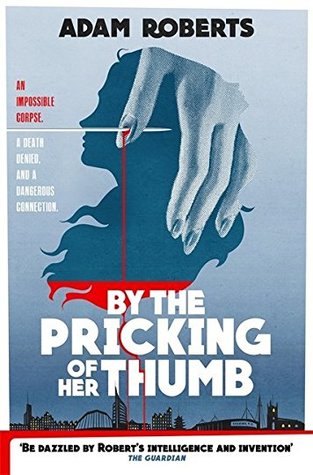 Private Investigator Alma is caught up in another impossible murder. One of the world's four richest people may be dead - but nobody is sure which one. Hired to discover the truth behind the increasingly bizarre behaviour of the ultra-rich, Alma must juggle treating her terminally ill lover with a case which may not have a victim.
Inspired by the films of Kubrick, this stand-alone novel returns to the near-future of THE REAL-TOWN MURDERS, and puts Alma on a path to a world she can barely understand. Witty, moving and with a mystery deep at its heart, this novel again shows Adam Roberts' mastery of the form.
3
« Last post by Lidija on August 13, 2018, 09:20:30 AM »
From the moment Richard K. Morgan's dazzling debut, Altered Carbon, burst onto the scene, it was clear that a distinctive new voice had arrived to shake up science fiction. His subsequent novels—including the sequels Broken Angels and Woken Furies—confirmed him as a master of hard-boiled futuristic thrillers. Now Morgan returns to the world of SF noir with a riveting tale of crime, corruption, and deadly crisis on a planet teetering close to the edge.
On a Mars where ruthless corporate interests violently collide with a homegrown independence movement as Earth-based overlords battle for profits and power, Hakan Veil is an ex–professional enforcer equipped with military-grade body tech that's made him a human killing machine. But he's had enough of the turbulent red planet, and all he wants is a ticket back home—which is just what he's offered by the Earth Oversight organization, in exchange for being the bodyguard for an EO investigator. It's a beyond-easy gig for a heavy hitter like Veil . . . until it isn't.
4
« Last post by Lidija on August 13, 2018, 09:18:59 AM »
In 1506, Michelangelo―a young but already renowned sculptor―is invited by the Sultan of Constantinople to design a bridge over the Golden Horn. The sultan has offered, alongside an enormous payment, the promise of immortality, since Leonardo da Vinci's design had been rejected: "You will surpass him in glory if you accept, for you will succeed where he has failed, and you will give the world a monument without equal."
Michelangelo, after some hesitation, flees Rome and an irritated Pope Julius II―whose commission he leaves unfinished―and arrives in Constantinople for this truly epic project. Once there, he explores the beauty and wonder of the Ottoman Empire, sketching and describing his impressions along the way, and becomes immersed in cloak-and-dagger palace intrigues as he struggles to create what could be his greatest architectural masterwork.
Tell Them of Battles, Kings, and Elephants―constructed from real historical fragments―is a story about why stories are told, why bridges are built, and how seemingly unmatched pieces, seen from the opposite sides of civilization, can mirror one another.
5
« Last post by Ghoul on August 12, 2018, 11:49:59 AM »
koje mu je srednje slovo?
6
« Last post by nevidljivi on August 12, 2018, 07:45:23 AM »


(1) данас у "Данасу" у уметнутом прилогу "Недеља" па на стр. (римски број) X тог прилога, видимо приказ, потписује само иницијалима Д.С,

Vrlo je moguće da je reč o Draganu Stošiću - nekadašnjem uredniku kulture, koji je sada urednik (valjda) posebnih izdanja i Plavih strana. On, uglavnom i radi za vikend izdanje...

7
Цењена Либеат, могуће је да сте у праву и да је тај филм (Тихо место) ипак претежно хорор; тачно је да га нисам одгледао. Не кажем да јесте хорор (као што Ви кажете, и као што Википедија тврди), само признајем да нисам сигуран.

(1) данас у "Данасу" у уметнутом прилогу "Недеља" па на стр. (римски број) X тог прилога, видимо приказ, потписује само иницијалима Д.С, наслов чланка је "Добронамерно скенирање", наднаслов је "СФ" (то је добро! најзад неко не бежи од те жанровске одреднице!!!), а тема је ова садашња (у току је) едиција најважнијих дела Филипа К. Дика, код београдског "Контраст издаваштва". У чланку се у првом пасусу концизно приказује живот и рад тог великог СФ писца, затим у следећим пасусима та едиција, и онда – изненађење! За разлику од типичног, уобичајеног текућег приказиваштва, где је све увек похвално и само и једино похвално, овде има и критике, баш праве! Наиме, видимо замерке да неки од превода нису баш најбољи, и да је коректура понегде недовољно добра. Чак видимо да приказивач, Д. С, сугерише да би можда добро било да исти издавач објави кудикамо боље, дакле побољшане верзије истих тих романа (не свих, само неких) – са бољим преводом али и бољом коректуром.

(2) "Политикин забавник" бр. 3470, петак 10.08.2018, нема СФ причу.

Али, насловна страна је СФ, слика времеплова отприлике у духу Х. Џ. Велса, али са два велика блистава златна прстена око времепловца (попречно један прстен у односу на други), ту је наслов "Како заскочити чукундеду" (мисли се на парадокс деде), и наднаслов "Упутство за путовање кроз време".

То је и тема насловног чланка, који је на стр. 8-11, припремио Срђан Николић, на стр. 8 видимо тај исти наслов и наднаслов. Чланак има увод и пет "пројеката" тј. делова са сугестијама како би се могло путовати кроз време.

стр. 22, да ли антиматерија ствара антигравитацију. (Вероватно не.)

стр. 63, језик племена Пирага има само 10 гласова.

стр. 67, сентенције о животињама, две-три добре.

8
Ne znam kako da ti kažem, ali počinješ da mi ličiš na nekoga...
9
« Last post by Lidija on August 09, 2018, 05:43:33 PM »
Mythopoeic Awards 2018


Adult Literature
Winner: Ka: Dar Oakley in the Ruin of Ymr, John Crowley (Saga)
The Changeling, Victor LaValle (Spiegel and Grau)
Passing Strange, Ellen Klages (Tor.com)
The Rules of Magic, Alice Hoffman (Simon & Schuster)
Snow City, G. A. Kathryns (Sycamore Sky Books)


Children's Literature
Winner: Frogkisser!, Garth Nix (Scholastic)
The Dragon with a Chocolate Heart, Stephanie Burgis (Bloomsbury)
Pashmina, Nidhi Chanani (First Second)
The Song from Somewhere Else, A. F. Harrold (Bloomsbury)
Tumble and Blue, Cassie Beasley (Dial)


Inklings Studies
Winner: The Inklings and King Arthur: J. R. R. Tolkien, Charles Williams, C. S. Lewis, and Owen Barfield on the Matter of Britain, Sørina Higgins (Apocryphile)
Beren and Luthien, Christopher Tolkien, ed. (Houghton Mifflin Harcourt)
There Would Always Be a Fairy Tale: More Essays on Tolkien, Verlyn Flieger (Kent State University Press)
Tolkien, Self and other: This Queer Creature, Jane Chance (Palgrave Macmillan)
Tolkien's Theology of Beauty: Majesty, Splendor, and Transcendence in Middle-earth, Lisa Coutras (Palgrave Macmillan)


Myth And Fantasy Studies
Winner: Children's Fantasy Literature: An Introduction, Michael Levy & Farah Mendlesohn (Cambridge University Press)
Celtic Myth in Contemporary Children's Fantasy: Idealization, Identity, Ideology, Dimitra Fimi (Palgrave Macmillan)
Genres of Doubt: Science Fiction, Fantasy and the Victorian Crisis of Faith, Elizabeth M. Sanders (McFarland)
Otherworlds: Fantasy and History in Medieval Literature, Aisling Byrne (Oxford University Press)
The Routledge Companion to Imaginary Worlds, Mark J. P. Wolf (Routledge)



10
« Last post by Lidija on August 09, 2018, 05:41:19 PM »
Arthur C. Clarke Award 2018


Winner
Dreams Before the Start of Time, Anne Charnock (47North)


Shortlist
American War, Omar El Akkad (Picador)
Borne, Jeff VanderMeer (Fourth Estate)
Gather the Daughters, Jennie Melemed (Tinder Press)
Sea of Rust, C. Robert Cargill (Gollancz)
Spaceman of Bohemia, Jaroslav Kalfar (Sceptre)